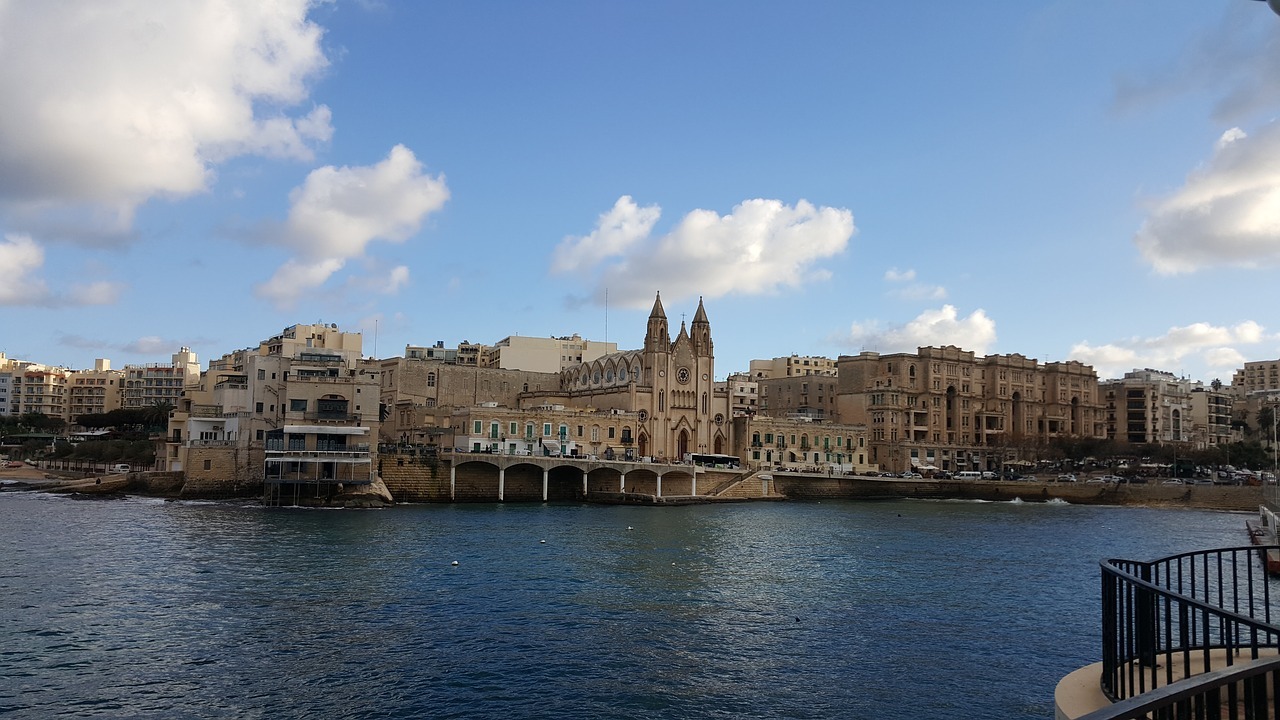 There are a vast array of reasons to spend your holiday in Malta Sliema. In explaining these, we will first delve into the story of Malta.
About Malta
Malta is one of the rarest gems in Europe. Albeit small, it has a lot to offer anyone looking to enjoy a holiday in Malta. 
A lot of key points in this article factor in making Malta a destination to visit. 
Whatever type of traveller you are, and whatever you decide on as important points for your travels, there is no doubt that a holiday in Malta harbours what you are looking for. 
If you are seeking adventure, history, culture, nightlife, food or sea the country has it all. 
Here we will be giving a quick rundown of the country, what makes it such an attraction and ultimately, why one should spend their holiday in Malta at Sliema.
Malta is a country in the middle of the Mediterranean Sea, meaning that it is close to a lot of countries in Europe, while also being very close to the countries in the Maghreb. 
Thus, if you are a traveller hopping from one country to another, Malta can be a convenient gateway into many other surrounding countries.
History and Culture
Malta and its citizens take pride in its rich and vast history which stems from all it has been through over time. 
The extent of this which touches upon many different empires and has been relevant throughout the ages. 
This is due to the simple fact that the country is in between most trade routes by sea. If ships are crossing the sea to go from one place to another, Malta will usually be a place to rest and replenish lost supplies. 
Thus this contributes to the extremely diverse culture. This is easily noticeable from a lot of very basic things on the island. 
For example, our cuisine is a mix of European and Arabic. 
Malta has been in between trade routes for a long time, and it still is! 
A lot of merchant ships and navy vessels see Malta as a place to rest. 
The country is still reliant on its port and all the ships that frequent the island. 
This is because, importation is one of the main factors which helps the island sustain itself.
Due to Malta being in a lot of trade routes, this simply proves that the country is in a very key location. 
A lot of empires wanted to capitalise on such a benefit seeing Malta as a front door to Europe. Armies would station their ships here in preparation to launch an attack or would find Malta as a haven for repairs and more. 
Besides this, the Grand Harbour of Malta is naturally structured in such a way making it easy to defend.
A very important siege took place in the 16th century, where the Knights of St. John defended the country against the Ottoman Empire. 
There is one key point that contributes to the existence of Malta as we know it today. Regardless of the dwindling number of Knights at the time (in comparison with the number of enemies), their intelligent strategic thinking with respect to the placement of fortifications, and bastions surrounding the Grand Harbour which ultimately led to their victory over the Turks.
The Ottoman Empire, The Knights Hospitaller and British Army are three notable empires which followed in Malta for enough time to create an impact. 
Other empires include the French under Napoleon, The Byzantine, Roman and Norman.
What makes the Ottomans, the Knights and the British so important is the permanent mark they left on the Maltese culture. 
As stated in the aforementioned paragraph, the language is heavily based on these three cultures. 
The foundation of the language is built off of the Semantic origin, followed by the Romantic one (due to the Knights Hospitaller), and finally, the Anglo-Saxon/English influence (due to the British Army)
These all come together to create the Maltese Language.
You can easily see the influence of the three cultures all culminate into one till this day! 
From the cuisine to the language and the way of life the Maltese culture is still revitalising itself.
Summertime
For starters, what you will be doing heavily depends on the season in which you will be visiting the country.
If you are coming in Summer, your activities should all revolve around swimming, beaches and boat parties. 
The Maltese bays are renowned as being some of the most beautiful and amazing. 
There are so many beaches to choose from in Malta, you can easily spend a day jumping from one beach to another. 
The more common beaches bring with them a lot of life and energy, making for a fun outing to go with your friends, family and loved ones. 
If you are into a more relaxing swim, alone or with only a few people there are also a number of bays which will accommodate such a need. 
Make sure to research a bit where you want to relax under the sun, a holiday in Malta won't be complete without swimming!
Obviously, this all depends on how much you are willing to exert yourself. 
Some bays are quite out-of-the-way and would require a good 15-20 minute walk, but it would totally be worth your time. 
Other bays are a lot more easily accessible. 
If you are going to spend your holiday in Malta with us at ST Hotels then you can easily swim in Sliema itself! 
A seaside village obviously has a place for people to swim and this is usually next to the shopping mall of Tigne' – The Point, or Exiles.
Summer in Malta also brings with it new life as tourists from all over come to Malta because of its nightlife. 
Maltese nightlife is known to be very exciting and vibrant, and Summer just adds that extra flair due to the new life that tourists bring. 
You can easily go to a boat party as these are frequent occurrences in Malta. Malta is also not short of festivals in Summer. 
There are a lot of massive festivals that take place during the Summer season, for example, The Farson Beer Festival, Glitch Fest, Earth Garden and many others. 
Make sure to check the Maltese calendar when you are visiting to be sure not to miss out on anything!
Winter 
The colder seasons on the island bring with them their own plethora of activities. 
For one, hiking takes on a new meaning. 
The hotter seasons dry out the Maltese countryside so, in the colder season, the countryside becomes revitalised. 
Holidays in Malta bring with them new adventures and the Maltese vistas are truly something new. 
There are plenty of hikes for people who are inclined to such activity, you can walk around Dingli Cliffs, Baħrija, you can walk along the Sliema promenade or Bidnija. 
The Christmas and New Year season in Malta brings with it a cosy, comforting feel to it. 
The Christmas markets that take place will leave you in awe, especially ones which take place in small rural villages. 
Attractions
If you are looking to spend time in Malta, then you are in for a packed vacation, full of attractions and adventure around every corner! 
You can go on a historical tour around the island visiting key locations. 
Some locations include Birgu, Isla, Bormla, Valletta, and Mdina. 
Mdina
The capital city on its own has a plethora of museums and exhibitions which are truly interesting and will put in perspective, the past happenings on the islands throughout the ages. 
Mdina is also a gem. 
In fact, no holiday in Malta would be complete without a visit to the Silent City. 
Mdina is a city that seems to be stuck in time. 
That is, walking through it is a walk through the ages. 
It was built in the middle of the island on a valley, so you get a spectacular view of the island underneath you. 
The view is truly impeccable. 
If you have the time, you should also make sure to eat at one of the restaurants in Mdina, and make sure to find one with a view so as to eat with a beautiful view of the island during your holiday in Malta
If you are looking to save some time for a historical tour around the country, be sure to plan for it appropriately. 
If you are looking to go in-depth and visit museums and cities thoroughly be sure to spread activities out evenly. 
The island has a lot to offer so do not speed past everything during your holiday in Malta
Cultural activities
Besides history, a holiday in Malta can also be packed with other cultural activities. 
The artistic scene on the island is flourishing. 
The music scene itself is booming, from local bands to foreign artists.
At the end of June, the country has a "Music Week' where, throughout the whole week, different music-related events will take place. 
To end it all off, there will be a massive concert which brings together different artists. 
St James Cavalier in Valletta is also another place you should put on your list. 
This place hosts a number of free exhibitions for new contemporary artists to showcase their talent. 
Shopping
Your holiday in Malta will not be complete without a bit of shopping and this can be done in Valletta and/or Sliema which are two of the biggest shopping hubs on the island. 
To start off with, Sliema has the Point Shopping Mall, where a lot of big brands are located. Along the promenade, there are also many shops which you can choose from. 
When you are done from Sliema, you can opt to get a ferry to Valletta. 
For a small cost, you can get a 15-minute ferry ride from Sliema to Valletta and continue your shopping from there. 
The Ferry operates throughout most of the day while also having a route from Valletta to the three cities. 
You can make a day out of it all, while you're in Valletta you can visit different cultural points and also grab a bite to eat. Both Valletta and Sliema have great restaurants for you to choose from. 
Food
Maltese cuisine is an important factor to be experienced. 
With so many different influences and flavours coming together into one, the culinary journey of Maltese cuisine is like nothing you have ever experienced before. 
Make sure to fill up your holiday in Malta with amazing food from established restaurants. 
It does not need to be expensive to be good, so be sure to ask around and see what the locals suggest. 
Residing in Sliema will grant you the opportunity to experience anything you want with regards to the culinary. 
Whatever you are looking for – Sliema has it!
Gozo & Comino
Gozo is the sister island of Malta and it is truly beautiful. 
It is a stripped down version of Malta, less busy, and less commercial. 
The island is occupied by only a handful of people and therefore, a lot of it remains mostly untouched. 
However, regardless of this face, it has its own fair share of history. A lot of people go there for a week or so, just to experience the peace that comes with it. 
The island has many places where one can swim and even go for just a nice walk. 
A lot of Maltese view Gozo as an escape from the fast-paced life that Malta brings. 
Gozo is a place for peace and quiet. 
If you are looking to escape, this is the place where you should be. 
Visiting Gozo is not expensive and you can easily catch a bus as a lot of public transport goes to the ferry and back, from numerous tourist locations in your holiday in Malta
Reserve some time in your holiday in Malta for such a trip because you will surely not regret it!
In between Malta and Gozo, there is an island called Comino which is famous for its Blue Lagoon. 
A lot of tourists and locals alike go to the lagoon to enjoy the sun as well as its crystal clear waters. 
If you are looking to enjoy a nice relaxing day by the sea under the sun, you should experience the wonders that Comino holds. 
There are a lot of ferries and cruises that will take you to Comino and other surrounding bays for a small price. 
This is best experienced with friends, family and loved ones to truly enjoy what Comino has to offer during your holiday in Malta
Conclusion
A holiday in Malta is always a guaranteed success but always be sure to plan it well. 
There is so much to do in Malta that you can easily get lost, so always stick to what you have planned. 
Malta has enough to accommodate any form of traveller so be smart and try things you might not normally do. 
The country is known for its Summer seasons. 
The nightlife is also very vibrant with a lot to do during your holiday in Malta.
If you are looking for a relaxing dinner, a lounge night or a night of partying, Malta has what you are looking for. 
In the colder seasons, the islands take a new shape. 
The island enjoys around 360 days of sunshine so you can easily assume that even in Winter, you will enjoy the beautiful Mediterranean sun. 
Hiking around the island is an activity locals love to do. 
If you ask anyone around, they will give you a rundown of their own personal haven to walk around so be sure to get some suggestions here and there.
A beautiful trip during your holiday in Malta should include a visit to the sister island, Gozo. 
This is only a 20-minute ferry ride away. 
Gozo is a greener version of Malta so you can expect that there is a lot to see and a beautiful countryside to go with it on your holiday in Malta.
Book a Room with Us
If you are looking to reside in Malta and are searching for the right accommodation, then ST Hotels is what you are looking for during your holiday in Malta
Located in the centre of Sliema, ST Hotels will provide you with the best the island has to offer with regards to hospitality. 
If you want to live in luxury while also being in the centre of the island, the ST Hotels is exactly what you are looking for!
Do you want to learn all you need to know about Sliema, Malta? If so, read our article.