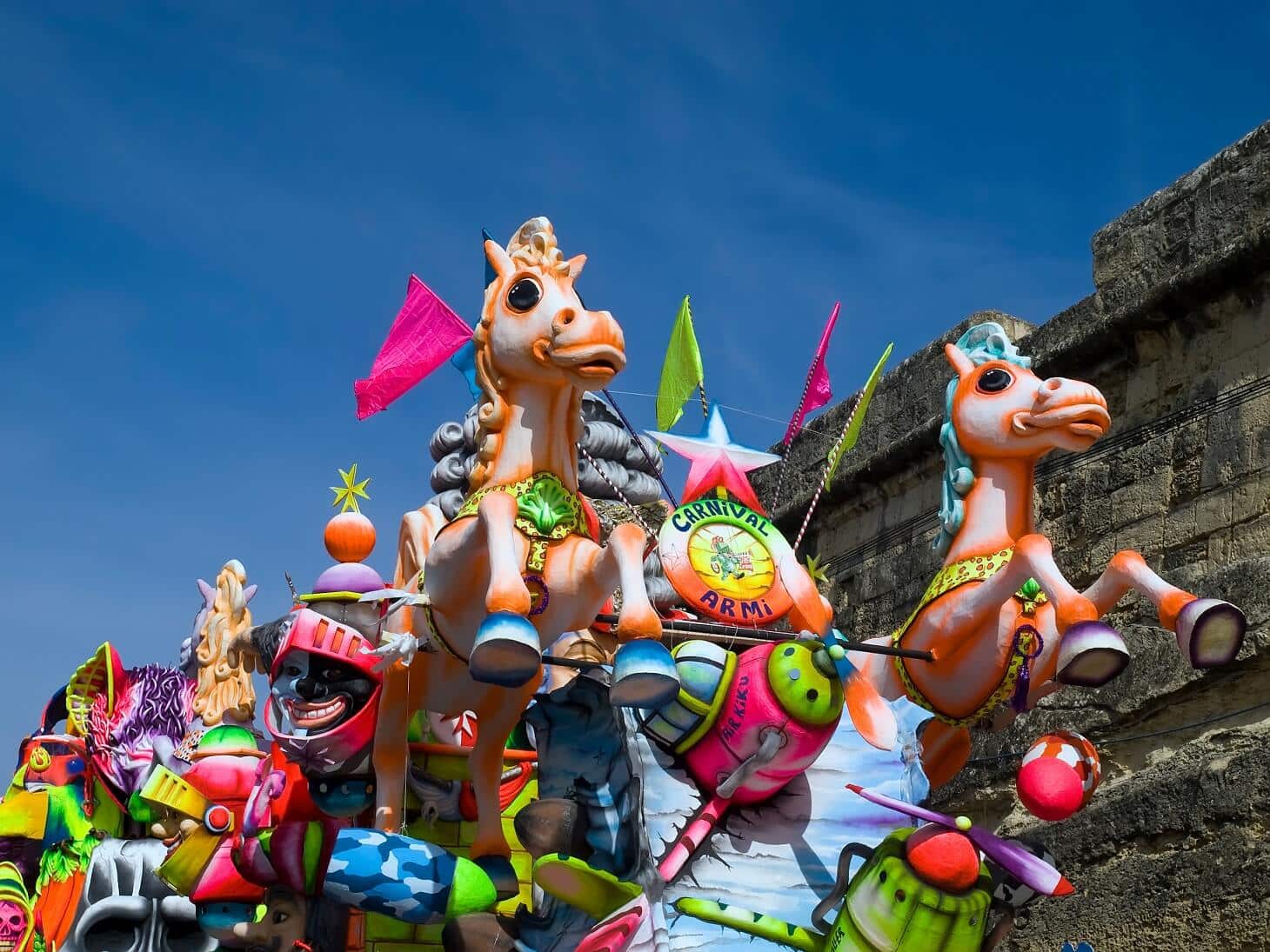 February and March in Malta are synonymous with one thing: Carnival celebrations! In Malta, this is also known as "Karnival ta' Malta" in the local language and is celebrated during the five days that precede the start of Lent. Starting on the Friday before Lent, all the way to Shrove Tuesday, you can expect a myriad of colours, a calendar bursting with events and celebrations, and a total immersion in the local customs and culture that makes for an unforgettable experience! 
One question on everybody's lips every year is, when is Carnival? In 2023, Carnival dates will fall between Friday, 17th February 2023 and Tuesday, 21st February 2023, so if you happen to be on the island during those dates and looking for a fun outdoor activity this winter, then joining the Carnival celebrations in Malta is a must! 
Where to celebrate Carnival in Malta? 
Valletta is the epicentre of Carnival celebrations in Malta, as the capital city comes to life with unique floats, often with satirical themes, quirky costumes, music, and exuberance. However, several towns around the island celebrate their version of Carnival. 
Another hub for carnival celebrations in Malta is a town in Gozo called Nadur. In Nadur's Spontaneous Carnival, you'll find people wearing grotesque, funny, and often satirical costumes. Locals tend to make huge efforts to ensure their costumes are unique every year, as many people, especially youths, flock to the sister island to participate in this yearly event. Carnival in Nadur is completely spontaneous without any organising entity, which gives a wilder touch to the celebrations, costumes, and floats parading through the town. 
Also, most events take their twist on Carnival, hosting costume-themed parties throughout these five days. Similarly, most children attend Carnival parties organised by their schools. Adults sometimes have a costume-themed day at work, so you're likely to see plenty of locals wearing their costumes commuting to school or work! 
How to celebrate Carnival in Malta
Celebrating Carnival in Malta will largely depend on your definition of fun. If you want to sample this Maltese tradition, we suggest visiting Valletta during one of the days during Carnival. Whether you do this during the float contest, stroll to join the vibrant celebrations (perhaps even by dressing up) or join the street party in the Nadur festival, it will be a memorable experience. 
We also have great news for those with a sweet tooth. Carnival in Malta also brings traditional carnival sweets. The most common ones are "perlini", i.e. pastel-coloured sugar-coated almonds, and "prinjolata", a rich dome-shaped cake made with biscuits, almonds, and fruits that are topped with cream, pine nuts, and decorated with chocolate and cherries. 
Join us at ST Hotels this Carnival
During these fun-filled days, resting in a comfortable and central location is a must to recharge your batteries! ST Hotels provide just that. With our strategic locations, you'll be connected to the best spots on the island to make the most of your holiday, including outdoor markets and events. 
Book your room now, or reach out to us for more information.