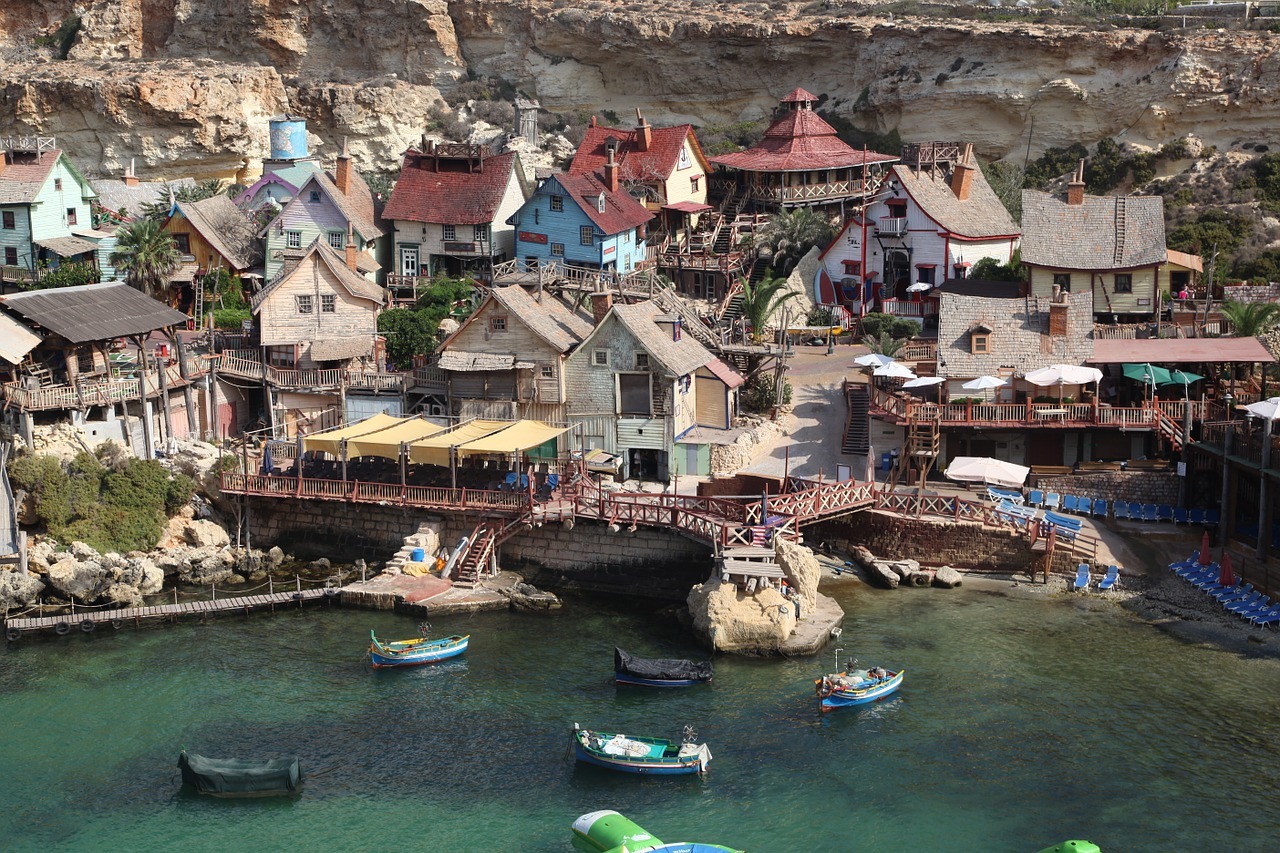 Officially known as the Republic of Malta, this is a European island country consisting of an archipelago which is located in the Mediterranean Sea. 
Although Malta is very small, spanning a surface of around 316 km² has a rich and vast history which means there are many things to do in Malta
This history is shown to be coming back from the remnants of its inhabitants going back to the Neolithic era.
As you will see, there are a large number of things to do in Malta. Visiting Malta gives you the unique opportunity to see and get a chance to experience the places where some of the biggest movie blockbusters and TV series were shot. 
This Mediterranean archipelago is known for its stunningly diverse natural landscapes and spectacular architecture that makes for some spectacular scenes in some of the biggest movies.
Things to do in Malta: Famous Film sets in Malta
As you will see, there is no shortage of things to do in Malta.
Here is a list of attractions to visit while in Malta.
The Musical, 'Popeye' 
Back in the 1980s when the primitive computer technology of the time did not even allow for green screen reproductions of real-world landscapes.
So film companies had to build all of their sets from scratch. In this case, its great as this gives tourists, and locals more things to do in Malta. The production of Popeye, starring Robin Williams in Anchor Bay, is an excellent example of this.
Popeye Village (also known as Sweethaven Village) made for a spectacular film set made for the musical "Popeye". 
If you think the Popeye movie starring the late Robin Williams was a flop, the theme park that emerged from the movie set certainly is not. 
In fact, Popeye Village is one of the major tourist attractions , filled with various colorful fun things to do in Malta. 
A main attraction you can enjoy in Popeye Village is "Take 2 filming".  During this event, you will be able to take part in daily filming. In this way, you and your friends become the actors of a live action movie. You will have the chance to either play the part of a villain or a hero, where the fate of humanity rests in your hands. 
Game of Thrones Locations:
San Anton Palace and Gardens, Attard
Although the palace existed since the time of the Knights of St. John, the overall area was enlarged. That is, a garden was later built by Grand Master Antoine de Paule San Anton. 
In fact, it does a good job of reflecting the life of the Knights of St. John, as well as the Grand Master De Paule.
Today, the palace is the residence of the Maltese President.
In the world of Game of Thrones, this is yet another Red Keep site — San Anton Palace and gardens in Balzan, where the courtyard and stables were filmed. 
Interestingly, they have a similar feel to the kingdom of Dorne in the show. Although, if you want to see the real location of Dorne, you'll have to visit Seville.
Whether you're into Game of Thrones or not, the peaceful gardens' exotic flowers, and splendid fountains are a must-see. That being said, as you can see, there are always things to do in Malta.
St. Dominic's Priory, Rabat 
This convent deserves attention because of its historical and religious background. In particular, in recent years, it has attracted many pilgrims. 
These have come over from all around the world to visit a supposedly miraculous statue of the Holy Virgin, which is housed in the church.
This Convent in Rabat is a little known tourist attraction but it is a good example to show that one can find things to do in Malta, even when that does not appear to be the case.
It is, however, featured as the Red Keep Garden in Season 1, Episode 7, called 'You win or you die'. 
This episode was titled in this way to stress the importance of these words said to Ned Stark by his enemy Cercei. 
This is a vital scene as it shows Ned confronting Cercei regarding the paternity of her three children.
That, is, he threatens to tell the uncompromising King Robert the truth that he is not the father of the children, but Jamie Lannister Cercei's brother) is.
What follows is the Infamous words of Cercei; 'When you play the game of thrones, you win or you die. There is no middle ground.' 
This is pivotal to the rest of the story as it gives adequate foreshadowing as to the the grim fate of the beloved Ned Stark.
Fans can walk through this Convent's gardens to get a better sense of what this scene was like.
Fort Ricasoli, Kalkara
Once negotiations between the French and Order of St. John had been settled. The Order handed the Maltese Islands over to the French. Once the island had been surrounded, Napoleon landed at Fort Ricasoli. 
This fort also acted as protection for Malta during the second world war. It was equipped by the British with guns, and protected the Grand Harbour. The Grand Harbour is another one of many more things to do in Malta
The three hundred year old Fort Ricasoli, located on the east side of the Grand Harbour in Kalkara, played a role in two separate episodes as the Gate of the Gods of King's Landing.
The first was in season 1 episode 3, called 'Lord Snow'. This scene depicts the Starks' arrival in King's Landing. 
The fort's main entrance is known as the King's Gate in King's Landing.
The second episode this fort was featured in was season 1, episode 5, called 'The Wolf and the Lion'. 
This episode depicts Arya sneaking back through the King's Gate into King's Landing. Again, the fort's main entrance is the King's Gate. 
Apart from that, another noteworthy thing to mention when thinking of things to do in Malta, and Fort Ricasoli is no exception. You can catch an impressive view of it from the Upper Barrakka Gardens in downtown Valletta.
Fort Manoel on Manoel Island
This is the infamous place where the haunting scene all fans dread occurred. Few fans are unable to recall painfully, that defining moment in season 1 episode 9: 'Baelor'. 
Standing in as the exterior of the Sept of Baelor, this is where Ned Stark lost his head in the first truly shocking and unexpected moment of the series.
Fort Manoel is an impressive military outpost built in the 18th century by The Order of Saint John, who had many different uses over the years. This means that it provides a lot of things to do in Malta, for the history buffs, as well as the trekkies out there.
One main use was to grant protection to Malta's coastline. 
In 1800, it was taken over by the British Military, and used as a hospital and as a Royal Navy base during WWII.
Another haunting aspect of this place is the local rumors and folklore surrounding it. 
It is believed to be haunted by a ghostly figure who is assumed to be Grand Master Vilhena. He appears to unsuspecting visitors wearing the full armour of the Order of St John. 
So, visit at your own risk.
The Azure Window in Gozo
This natural wonder has also played a role in the HBO Series, Game of Thrones, and was featured in Season 1 Episode 1, called 'Winter is Coming'. 
That is, it served as a backdrop from an extremely important scene in the show, the wedding of Khal Drogo and Daenerys'. 
Although the Azure Window collapsed in 2017, the area surrounding it, as well as the rest of the coast on the islands of Gozo and Comino looks pretty evocative of this vital event in the show.
Game of Thrones aside, the Azure Window offers some very rare geological features on land as well as underwater. These include diverse wildlife and habitats as well as phenomenal seascapes along the rocky shoreline. 
There are also some great underwater caves. The azure Window proves to be one of the most exceptional places for hikers to visit when coming to Malta.
Mdina Gate, Mdina
Framed by the iconic medieval/renaissance walls and with a history spanning around 4000 years,''The Silent City' known as Mdina was the first capital of Malta. 
This is a stunning treasure trove in Malta for any interesting history buffs out there, which provides tourists with another experience on their list of things to do in Malta. In fact, Mdina is one of Europe's most well-preserved ancient cities. 
Upon crossing its commanding gate, visitors often speak of being instantly transported back through the centuries.
It was here at the entrance where in Season 1, Episode 3 'Lord Snow' occurred. 
Catelyn Stark and Ser Rodrik Cassel rode into King's Landing to try to figure out what led to Bran's fall.
It is also where Ned later says goodbye to Catelyn as she heads off from King's Landing after the death of King Robert.
It's also the prime spot for Thrones fans for another reason. That is, its plazas remind fans of many familiar scenes. For example, the courtyard outside Littlefinger's brothel, where Ned Stark feels the pointy end of Jaime Lannister's sword. 
Manikata, Mellieha
Manikata is a small village in the limits of Mellieħa, Malta. 
You can find some ruins that played the role of 'the village of Lhazareen'. This village is the home of the witch known as Mirri Maz Duur.
In Season 1 finale – 'Fire and Blood' , the village is raided by the Dothraki.The Khaleesi Daenerys Targaryen orders that the Lhazareen women – including Mirri Maz Duur – be handed over to her so she can protect them. 
This is a vital part of the story as the witch deceives Daenerys into believing that she can prevent the death of her husband, and first love, Khal Drogo. 
Mellieha is known for more than just for its role in this popular series. In fact, Mellieha is a prominant place in Malta, which means that there are a large amount of things to do in Malta.
In this case, the season is also a variable when considering what things to do in Malta. Mellieha is a much more prominent place in summer because of its vast number of stunning crystal clear beaches.
Mellieha Beaches
We are now going to discuss the popular beaches, and the various things to do in Mellieha, Malta.

Ghajn Tuffieha Beach
This bay is located on the north-west coast of Malta, just behind the village of Manikata in Mellieha, Malta
What is different about Ghajn Tuffieha from beaches like Golden Bay is that the former is less accessible. It is accessed through a steep flight of 200 stairs. This fact means that this beach looks untouched, in contrast to the more popular beaches.
Another important factor to take into consideration when thinking about things to do in Malta is that when it comes to island life, the simple things matter just as much as the bigger things. Ghajn Tuffieha has one of the most magnificent views of the sunset in Malta. So see it for yourself.
Armier and Little Armier Beach
Armier is a bay located in the Northern part of the Island. As you will see, this particular beach offers a lot of variety when looking for things to do in Malta.
This is because, unlike most other beaches, it consists of two sandy beaches. The larger one is called Armier, and the smaller one is called Little Armier. 
Interestingly, the sea surrounding these two bays is crystal clear, and resembles the sea at Blue Lagoon not far away. In fact, Blue Lagoon is another place which provides a lot of things to do in Malta.
Both these beaches are relatively popular due to the stunning views  of the neighboring islands of Comino and Gozo that one can get. These beaches are not as well known as Ghajn Tuffieha or Golden bay, and are relatively quiet, with no passing traffic.
Ghadira Bay
Ghadira Bay is located in the North of the island, on the outskirts of the village of Mellieħa.
It is by far, Malta's largest, and most popular beach. This is because of a number of different reasons.
Ghadira bay is a family-friendly bay which is in a prime location, right beside a number of cafes and restaurants that are lined up for fast food, refreshments, and ice-creams.
With a gentle slope towards deeper waters, Mellieħa Bay is a great beach for swimming with the family.
You can also find all kinds of sport rentals here for sporting activities. These include banana rides, as well as pedaling boats. As you can see, there are many things to do in Malta, and more specifically, Mellieha
Golden Bay
Golden Bay is located next to Għajn Tuffieħa on the north-west coast of Malta, nearby the village of Manikata and known for its red sand.
Like Għajn Tuffieħa, Golden Bay is a sandy beach, but it tends to be more popular because it is larger and easier to access, and has better facilities, including a few restaurants.
It is surrounded by hills. On one side, there is a watchtower which dates back to the Knights of Malta, whilst on the other side there is a 5 star hotel. These provide more and more things to do in Malta.
This beach is particularly busy in the evening when people fire up their barbecues and enjoy a relaxing Summer night at the beach. 
As you can see, beaches provide tourists a large amount of things to do in Malta. It is an Island afterall.
Book Our Hotel With One Stop Away From Valletta, Malta
As seen in above, Malta provides a vast number of locations containing a plethora of rich and varied landscapes. As a result, there is never a shortage of things to do in Malta. Whether or not you are a fan of the movies and series mentioned above, visiting any one of these places will surely not leave you disappointed. 
ST Hotels is in Sliema, Malta – and is one stop away from all these fantastic activities. Book a room at Blubay Apartments Malta to have a truly pleasant experience, together with a friendly service.
Are you interested in learning about the maltese capital, Valletta? Then read our article about the hub of tourism and history in Malta.