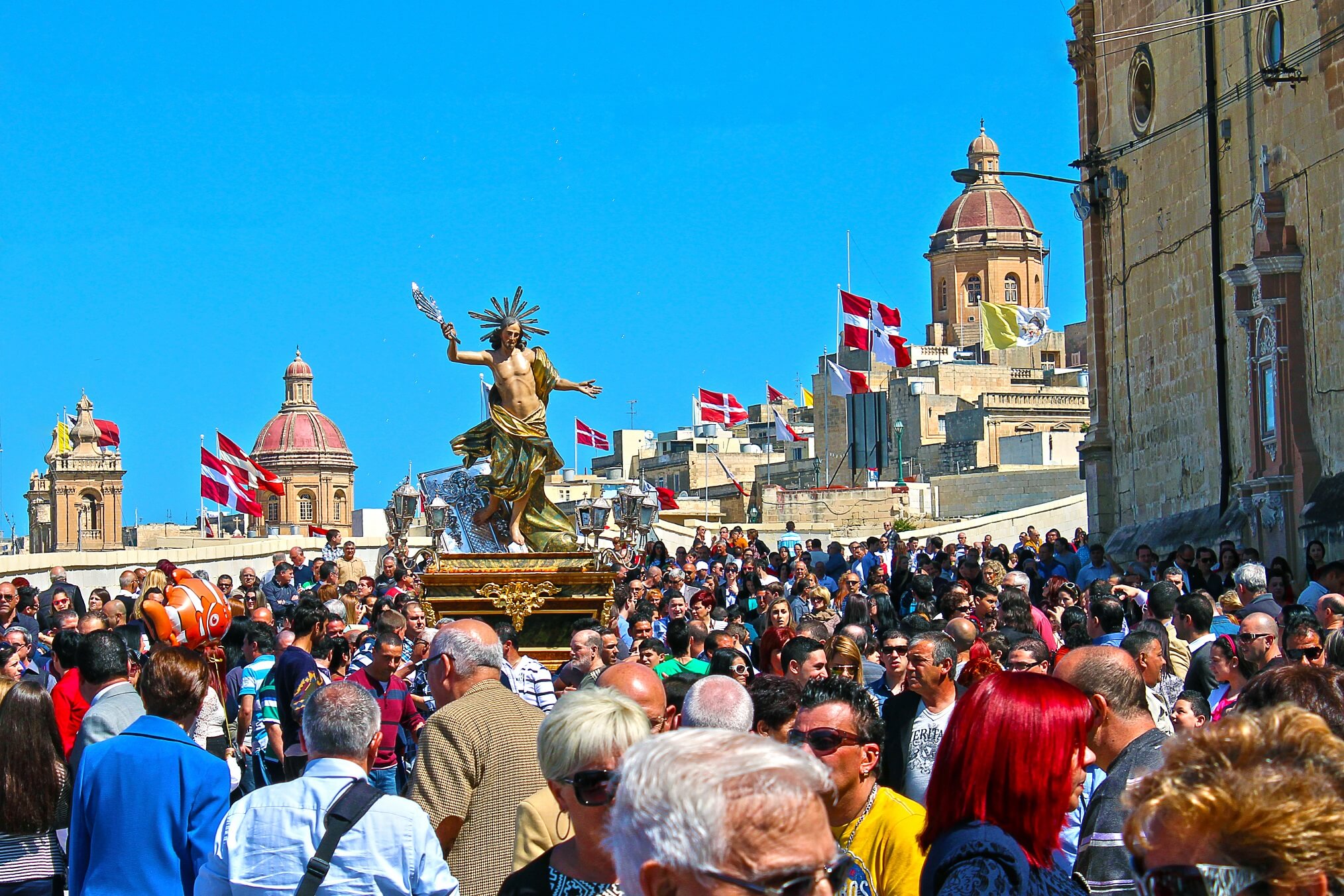 The Maltese take Easter very seriously. In fact, Easter is a huge holiday in Malta, second only to Christmas in importance to the locals. 
Solemn processions and rituals characterise most days before Easter Sunday. However, Easter Sunday is celebrated with grandeur throughout the country. 
If you're travelling to Malta during this particular period, you shouldn't miss out on at least some of the traditions. You'll be immersed in the local's life while creating an unforgettable memory to take back home.
So, since a lot is happening during this time of the year, we'll be going through some of the things you must do this Easter in Malta. 
1: Attend one of the many processions
Many processions are happening around Malta in the days leading up to Easter Sunday. Some of the most renowned ones are on Palm Sunday, the Friday preceding it (Our Lady of Sorrows), and Good Friday. 
2: Join the Maundy Thursday pilgrimage 
Most locals draft their itinerary for their ​​Seven Churches Visitation on Maundy Thursday. For most families, this is a yearly tradition to gather together for this Lenten tradition, where the faithful visit seven churches to pray and meditate. 
Siggiewi, a typical village in the southern region of Malta, hosts a fascinating tradition too. And that is the pilgrimage to the Laferla Cross.
During this event, attendees walk through a surreal setting—a candle-lit path in the Maltese countryside. This path leads up the Girgenti Hill until they reach one of Malta's most-loved landmarks. 
Not only is this an unforgettable experience, but it's also a solemn one. Plus, it makes for a unique opportunity to reflect and meditate. 
3: Explore the churches 
Regardless of the season you visit Malta, visiting its many churches is a must. However, the Easter period makes it the ideal time to do so. 
During this period, not only can you admire their beautiful architecture and works of art, but you'll also see churches clad in their mournful suits during the Holy Week. 
You can also spot the Altars of Repose, set up for communion on Good Friday. 
4: Visit the traditional exhibitions 
While there are exhibitions throughout the entire year in Malta, the traditional Easter exhibitions are genuinely unique.
Scattered around the island, the Last Supper displays in all shapes and forms, made with different materials and resources. 
Furthermore, there's also a variety of holy statue exhibitions, showing the local skilled craftsmanship and devotion. 
One particular tradition depicts religious representations of biblical episodes using salt and rice. These elaborate works are unlike anything you've ever seen. So look out for these exhibitions in various towns and localities around the island! 
5: Join the Easter Sunday celebrations 
The Maltese celebrate special occasions like Easter Sunday in more than one way!
The sombre mood that characterises most of the Holy Week makes way for a cheerful Sunday. 
On Easter Sunday, bells ring jubilantly as locals gather with their loved ones for mass and a typical procession.
During this procession, attendees join a parade of the Risen Christ in the streets. And, in some towns, it ends with the bearers running with the figure on their backs or arms back to the church. 
A generous lunch organised at home or in one of the many restaurants around the island follows these celebrations (naturally)! 
Locals enjoy a variety of foods and drinks during these lunches. These include the typical Easter lunch consisting of lamb, potatoes and veg, or Maltese and Mediterranean cuisine. 
6: Indulge in the local traditional Easter food 
Malta and the love for food go hand in hand, and unsurprisingly, there's a lot to enjoy during Easter in Malta. 
Perhaps the most commonly known and appreciated sweet is the Figolla. These almond-filled pastry, decorated with chocolate or icing, are among the locals' most-loved traditional foods. 
You can find figolli in different sizes and shapes. These include lambs, butterflies, cars, or the simple oval shape. 
One other traditional food enjoyed by Maltese children, and adults, are the traditional Easter Eggs.  They're made in different sizes, either artisanally or by internationally-renowned brands. 
In short, you'll find plenty of food to enjoy in Malta during this time of the year!
7: Relax and unwind
While this might not be a local tradition, relaxing and unwinding during your holidays is necessary.
And to do so, you'll need a mix of things to do and downtime to rest and reset. 
Basing yourself in a central and comfortable location is pivotal to making the most of your holiday and striking a balance between doing and relaxing.
ST Hotels are the ideal solution to do this in Malta.
Our hotels are in Sliema, a well-serviced and well-connected location. This makes travelling around Malta as easy as possible.
You can choose between various rooms, all of which provide you with the comfort you need to enjoy these Easter holidays in the Mediterranean. 
Book your room now, or reach out to us for more information.
Planning your upcoming trip to Malta? Take a look at our blog posts. You'll find all there is to know about Malta!