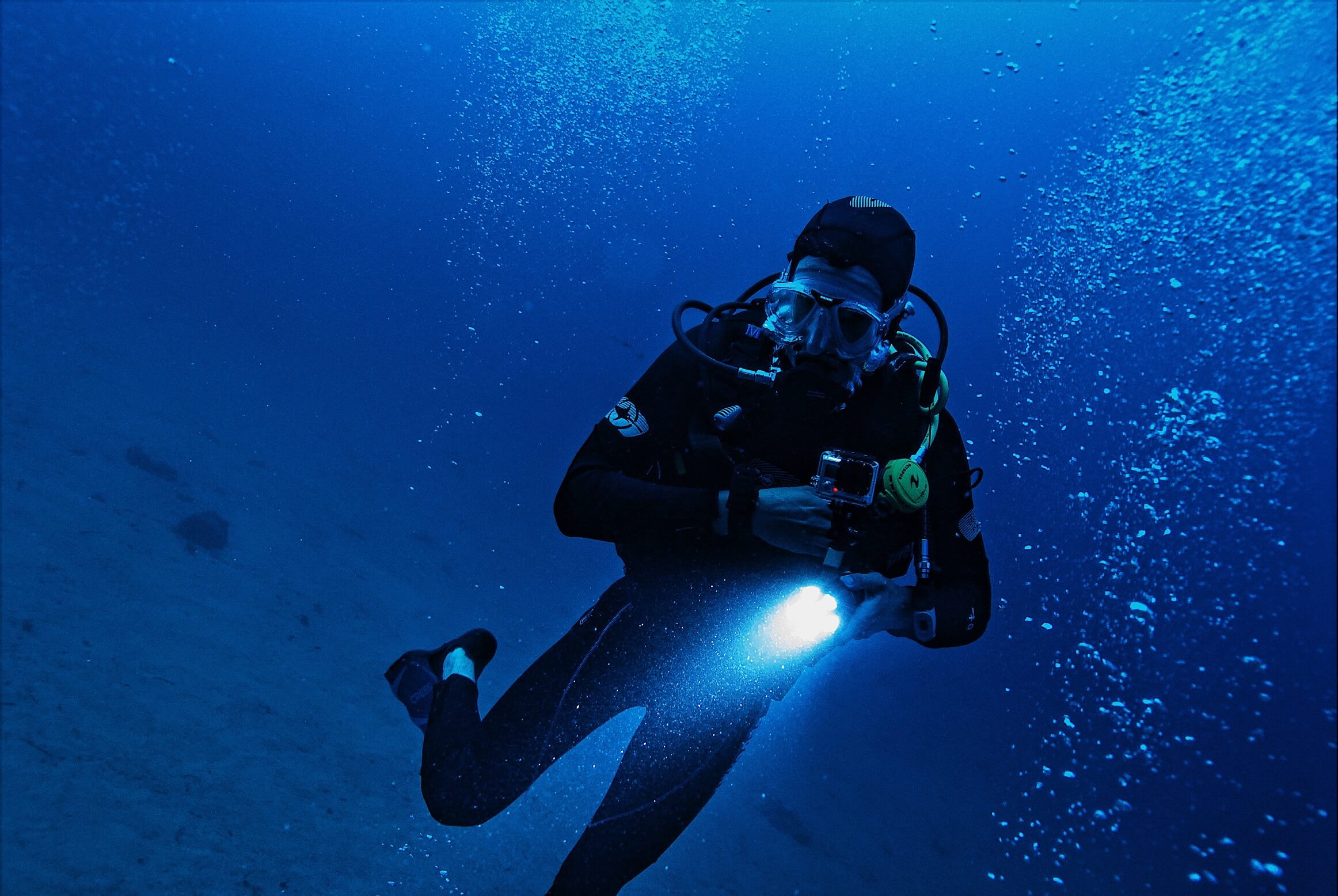 Malta's picturesque landscapes and ancient history inarguably attract visitors from all over the world, seeking to immerse themselves in the island's unique Mediterranean charm. 
However, there's another side of Malta waiting to be explored. And that is the world that lies beneath its azure shores.
In fact, Malta's underwater too has a magnetic pull for divers worldwide, thanks to its clear waters and diverse marine ecosystem. 
In this blog, we're immersing ourselves into this hidden realm, unearthing what sets Malta's underwater world apart and makes it a sought-after destination.
Exploring Malta's Pristine Waters
Malta's crystal-clear waters are what a diver's dreams are made of. 
However, its stunning clarity isn't the only factor attracting those descending into Malta's waters. 
The range of underwater landscapes Malta offers adds to this charm, ranging from hidden caves brimming with mystery to vibrant coral reefs buzzing with marine life, each dive is an exploration of a distinctive habitat. 
The caves beckon with the allure of uncharted paths, promising discovery. Reefs display a kaleidoscope of colours. And the marine biodiversity concealed that's nothing short of breathtaking. This diverse marine topography ensures that every dive promises an adventure, accommodating divers of various skill levels and preferences.
Malta's Diverse Marine Life
Maltese waters are home to a diverse variety of flora and fauna, a testament to the Mediterranean's incredible biodiversity.
Both natural, as well as artificial reef habitats such as wrecks contribute to the vibrant tapestry of life beneath the waves.
The spectrum of marine life you may encounter is vast and captivating. Groupers, amberjack, various bream, and octopi navigate the waters, together with squids and flying fish, gurnard, stingrays, meagre, bogue, red mullet, and parrotfish, all of which contribute to the lively ensemble that populates the underwater landscape.
The rocky structures and seabed along the coast create ideal living conditions for many sea creatures, such as the moray eel. Although rare, sometimes, lucky divers see big fish like tuna, dolphins, and bonitos, especially in winter when they tend to venture to the shore for warmer waters. 
Occasionally, you can also spot the John Dory, once again during the winter. 
Not to mention the stunning corals typically found on arches, reefs, and caves, illuminating the dark with their orange and pink shades. 
As always, diving with caution is recommended. Ensure you know your diving proficiency, and that you're following any guidelines provided. 
These instructions will often include not handling dangerous or poisonous creatures like the scorpion fish, bristle worms, sea urchins, and stingrays — all of which are a possible encounter during your underwater adventure. 
Historical Wrecks and Diving Attractions
So which are the best dive sites in Malta's waters?
Here are some remarkable spots to delve into the island's intriguing past:
The Um El Faroud: Once an oil tanker, this wreck now sits southwest of Wied il-Qrendi. It's a colossal structure and a haven for marine life, showcasing the blend of history and underwater biodiversity.
HMS Stubborn:  Located around 3 km north-east of Qawra Point, HMS Stubborn was a S-class British submarine  scuttled intentionally by the Royal Navy in 1946. Today, it's one of the most interesting diving spots, as it's one of the most accessible submarine wrecks in Malta. 
The P29 Patrol Boat: Sunk intentionally in 2007, this wreck off Cirkewwa is a diver's dream. The patrol boat, intact and covered in marine growth, is a prime attraction, providing both history and an opportunity to witness the thriving marine habitat.
Comino Caves and Santa Maria Caves: A labyrinth of caves off the island of Comino and Santa Maria, offering thrilling opportunities for exploration. These caves are not only an exciting dive but also a chance to discover centuries-old tales and hidden nooks of Maltese history.
Tugboat 10H and St. Michael: Close to Zonqor Point in Marsascala, Tugboat 10H and St. Michael were scuttled in May 1998. Both wrecks are usually visited during the same excursion.
Blue Hole: Nature takes centre stage in this iconic site on Gozo's coast, making it one of the most popular diving spots in Gozo. The Blue Hole is a product of years of coastal wave action, with its exit leading to the open sea. 
Responsible and Sustainable Diving 
Responsible diving means assessing your skills and limits for safety. 
Adhering to guidelines, relying on trusted instructors, and ensuring proper training and equipment use are essential elements of responsible diving. 
Similarly, sustainable practices protect marine ecosystems, preserving biodiversity for future generations and nurturing a healthier planet for all.
Unwind Post-Dive at ST Hotels During Your Malta Adventure
Our prime locations in lively Sliema and Gzira keep you close to the mentioned spots, with a plethora of dining, entertainment, and shopping options at your doorstep. 
Book your room today, or contact us for further details.