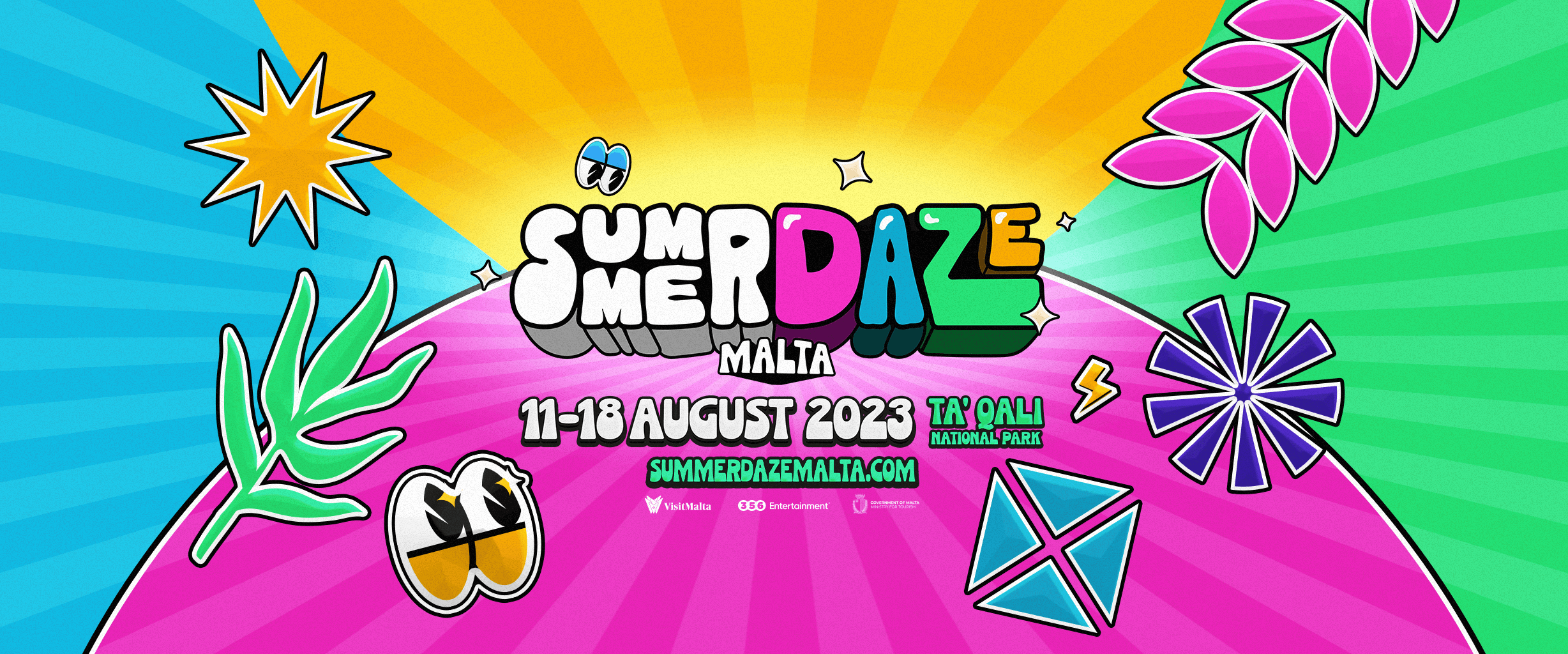 There's nothing like a good music festival to make your summer unforgettable. 
And this year, amidst the crystal-clear waters of the Mediterranean and sultry sunshine, one festival stands out as the celebration of music and summer bliss: the SummerDaze Festival in Malta. 
Held between 11 – 18 August 2023, SummerDaze Malta is expected to, once again, captivate music lovers from all corners of the globe. And it's easy to see why. 
We can expect a week-long heaven for music lovers, with some of the hottest musicians. 
Headliners in fact include the world-famous Black Eyed Peas, Zara Larsson, Salmo, Elettra Lamborghini, and many more. 
In this blog, we'll delve into the heart of the SummerDaze Music Festival, exploring the impressive array of artists delivering diverse and captivating performances across various genres. 
We've also compiled some of our best tips for preparing for the festival. 
Get ready to be immersed in an exceptional atmosphere, surrounded by the exciting energy of the crowd and the sheer brilliance of the performers in this highly-anticipated event. 
About SummerDaze Malta
This festival has become a highlight of the Maltese calendar of music events. Now in its 4th edition, SummerDaze Malta has hosted a myriad of music a-listers through the years, including Martin Garrix, David Guetta, James Arthur, and many more.
This year won't be an exception. The fantastic lineup for the 2023 event includes artists spanning across different genres, with events being held during the entire week in some of Malta's best music venues. 
The festival has two highly anticipated events that will leave music enthusiasts buzzing with excitement. 
The first main event, held on August 15th in collaboration with BBC Radio 1 Dance Anthems X and Creamfields, promises an unforgettable night of music. 
Headlining this extraordinary evening are music icons Black Eyed Peas, Puerto Rican megastar Farruko, Swedish hitmaker Zara Larsson, and the platinum-selling British collective D Block Europe. 
BBC RADIO 1 Dance Anthems' Charlie Hedges will also join the party. 
The other main event will take place on August 18th. 
This Italian-themed night will feature the talented lineup of Deejay Time's very own Albertino, Fargetta, Molella, and Prezioso and live performances by superstar rapper and producer Salmo, TV personality, singer, and social media influencer Elettra Lamborghini, the renowned "king of Italian reggaeton" Fred de Palma, and the 90's megastars Haddaway and Double You.
However, that's not just it. The program includes several satellite events, including DJ sets, boat parties, and pool parties. 
Tickets cost €10 for each main event and will include a reusable plastic cup throughout the event. Festival merchandise will be distributed as giveaways during the events and parties. 
You can find more information and you can also secure your tickets on the event's official website. 
Preparing for SummerDaze Music Festival Malta
Preparing for the SummerDaze Music Festival in Malta is more than just getting excited about the incredible lineup and performances. 
August is a fantastic time to visit Malta. The island basks in the warm Mediterranean summer, with sunny days and clear skies.
Packing lightweight, breathable clothing is essential to stay cool and comfortable during the festival and your other adventures on the island.
While the festival will undoubtedly be the highlight of your trip, take advantage of the opportunity to explore the island too. 
Create an itinerary that allows you to discover the island's rich cultural heritage, breathtaking landscapes, historic sites, and stunning beaches. 
In all of this, remember to embrace the festive spirit and immerse yourself in the festival fun. 
Dance, sing, and create lasting memories as you soak up the magic of this musical extravaganza!
Choosing the best accommodation for the SummerDaze Music Festival 
There's one vital thing to tick off on your preparation to-do list. And that is where you'll be lodging during the event.
ST Hotels, located in the lively town of Sliema, provide the ideal accommodation option. With its central position, Sliema offers excellent connectivity to the rest of Malta, including all festival venues. 
Apart from its prime location, Sliema exudes a vibrant atmosphere, boasting numerous dining options, lively pubs, and charming boutique shops. 
This means you can enjoy the best of both worlds: the convenience of a bustling setting and seamless access to the concert. After an exhilarating day of music and celebration, you can retreat to the tranquillity of your accommodation in Sliema, allowing you to unwind and recharge for the next day's adventures.
Book your room today, or reach out to us for further details.
Looking for more events to attend this summer in Malta? Check out our blog about Christina Aguilera's concert in Malta for EuroPride 2023 and the Isle of MTV Malta 2023. 
Image source: SummerDaze Festival