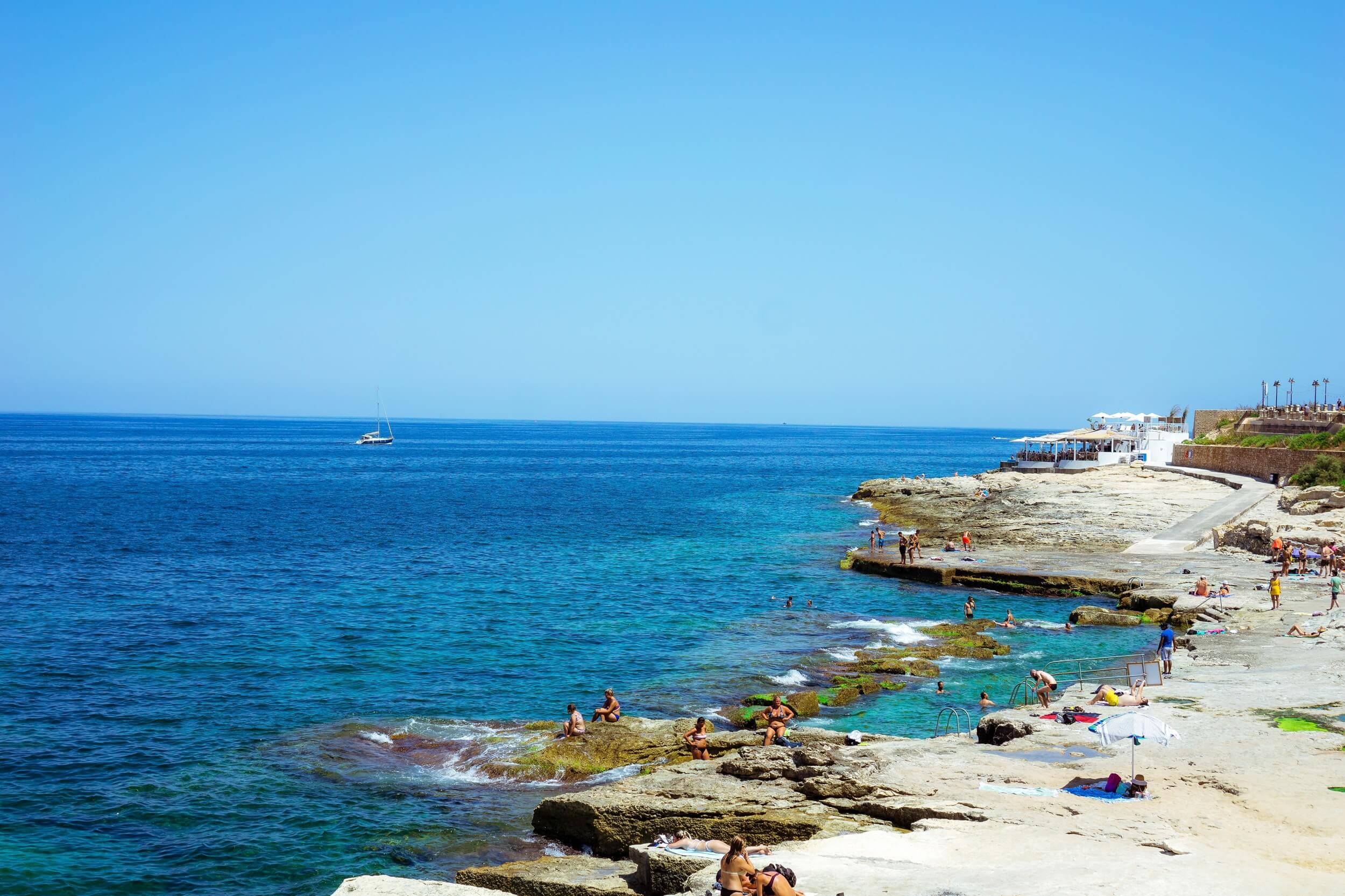 Sliema and Gzira are the beating heart of Malta, offering stunning waterfront promenades, bustling shopping districts, and mouth watering dining options — making them self-contained destinations. 
However, the charm of Malta extends far beyond Sliema and Gzira to encompass the entire island.
The island is a treasure trove of history, culture, and natural beauty, awaiting exploration beyond the comfort of these charming coastal towns.
Both towns are conveniently connected to the rest of the island, making exploring the rest quickly within reach.
So, which are the best day trips from Sliema and Gzira? 
In this blog, we'll answer this question by looking into the diverse attractions and experiences that make Malta a must-visit destination, all of which you can start exploring from our gateway in Sliema and Gzira. 
The Historic Capital – Valletta
Valletta, the capital city of Malta, is a must-see destination when visiting Malta. As you wander through its UNESCO World Heritage-listed streets, you'll step into a world rich in history and culture that echoes tales from the past while the bustling atmosphere immerses you in local life.
There are numerous places to visit, interesting sights to see, and exciting experiences to enjoy, but we recommend you don't miss: 
Visiting St. John's Co-Cathedral, a Baroque architectural masterpiece, houses some of Caravaggio's work.

Exploring the Grand Master's Palace.

Witnessing at least one of the breathtaking panoramic views of the Grand Harbor (such as from the Upper Barrakka Gardens). 

Trying some of the local food either from one of the many eateries in the city centre or the Valletta waterfront 
While the city is easily accessible by bus or private transport, we highly recommend taking the ferry from Sliema to avoid traffic and enjoy the breathtaking views during the short trip.
Mdina and Rabat 
With its narrow cobbled streets and ancient walls, Mdina is a time capsule that transports you back to the Middle Ages, allowing you to stroll through centuries of history.
Here, you can't miss:
St. Paul's Cathedral

The Mdina Dungeons

Witnessing stunning views of the island from one of the many viewpoints
The neighbouring town, Rabat, is worth the visit, too — just a stone's throw away from Mdina. Here, you can discover intriguing catacombs, beautiful gardens, and other remarkable historical treasures.
These timeless towns are easily accessible from Sliema and Gzira, offering a glimpse into Malta's storied past.
The Three Cities – Birgu, Senglea, and Cospicua
Located across the Grand Harbor from Valletta, the historic "Three Cities" of Birgu, Senglea, and Cospicua are charming maritime towns steeped in history and lined with picturesque waterfronts. 
The Three Cities make for an excellent day trip, as they're all well-connected to each other and can easily be explored on foot. 
You can spend the day exploring impressive fortifications, including Fort St. Angelo, and stroll through the atmospheric streets that have witnessed centuries of naval battles and trade. 
The Three Cities are situated in the southern part of Malta but are easily accessible from Sliema and Gzira. Although you can take a bus from Valletta, you can also opt for a ferry ride that will take you straight to Cospicua, offering stunning views.
The Blue Lagoon 
Experience the true essence of Mediterranean beauty with a day trip to Comino and the Blue Lagoon. 
A popular destination for sun-seekers and water enthusiasts, Comino boasts crystal-clear waters ideal for snorkelling, water sports, or simply relaxing and swimming.
Frequent ferry services from Sliema and Gzira make this idyllic island getaway a breeze. Whether you're seeking relaxation or adventure, Comino promises a day of pure bliss amid natural splendour.
Gozo
No trip to Malta is complete without a visit to its sister island, Gozo. 
With its lush landscapes, quaint villages, and historic wonders, Gozo is the perfect day trip from Sliema and Gzira.
There's a lot to explore and see in Gozo, but we suggest ensuring your itinerary includes: 
The UNESCO-listed Ggantija Temples, one of the world's oldest freestanding structures

The charming inland sea at Dwejra is surrounded by boat houses where you can often watch locals working on traditional crafts. 

The island's capital city, Victoria and the Cittadella, a fortified city within a city,

Sampling some local delicacies in one of its sea-side towns, such as Marsalforn and Xlendi

A walk (or, weather permitting, a dip) in one of the many beautiful beaches, such as Ramla l-Hamra
Frequent ferry service is available from Sliema and Gzira, with traditional service from Cirkewwa and fast-ferry service from Valletta.
ST Hotels – Your Base for Exploring Malta
After a day of touring these remarkable sights of Malta, there's nothing like returning to the convenience of a well-connected, centrally located, and comfortable hotel. ST Hotels provides an excellent base for your adventures and ensures you're back to rest in no time.
Book your room today, or reach out to us for further details.