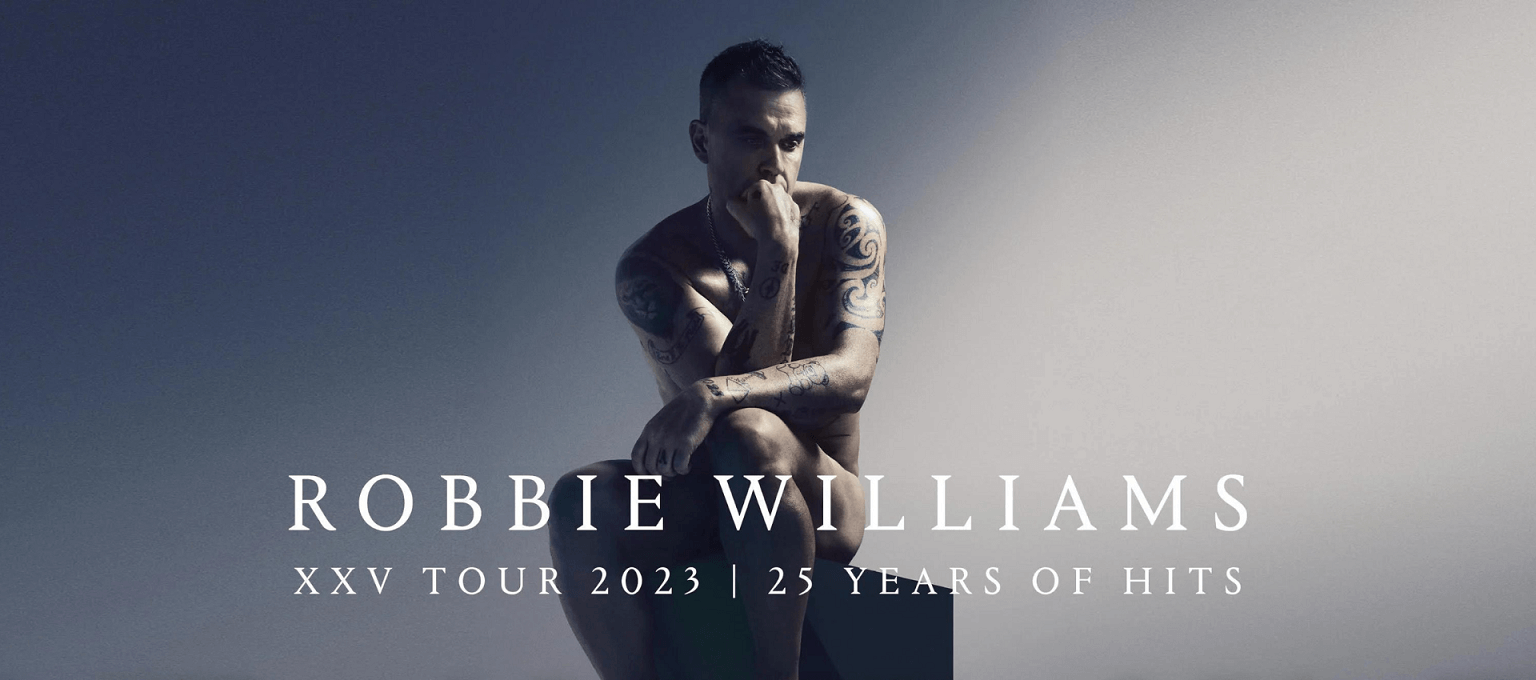 Former member of Take That and internationally renowned artist Robbie Williams has chosen Malta as part of his European Tour. And we couldn't be looking forward to it more! 
The date for the concert in Malta is 24 August 2023, and will be held at the Granaries in Floriana, which is known for hosting some of the largest shows in Malta. 
The concert in Malta will be among the 20+ European dates on the singer's XXV TOUR 2023. Robbie Williams is set to perform this summer in festivals and concerts across Europe, including the UK, Spain, Greece, Italy, Switzerland and many others. 
This much-anticipated tour celebrates Robbie's 25 years as a solo artist. 
Following the release of his latest album, 'XXV', last September, the tour is expected to feature most of his greatest hits during his extensive solo career. 
In this article, we'll give you all the information and tips you need if you're attending (or planning to) Robbie Williams's concert in Malta. 
About the artist: Robbie Williams 
With 14 UK number-one singles and international stardom, Robbie Williams needs no introduction! 
His hits — including Let Me Entertain You, Angels, Rock DJ, and She's the One — have won the hearts of fans of different generations. 
The British singer rose to fame in the 1990s as a boy band Take That member. In 1995, Robbie Williams left the band and took on a solo career. Since then, he's been providing his audience with record upon record that combine pop, rock, and dance elements. 
Robbie Williams is also known for his performances, characterised by his high energy and attractive charisma. 
So, it's no wonder that the artist has — according to Music Week — sold over 75,000,000 albums worldwide.

About the concert venue: Floriana Granaries 
The Floriana Granaries is one of Malta's largest and most popular outdoor public places.
It hosts several events year-round, including large events, mass gatherings, festivals, and concerts. 
Initially built by the Knights of Saint John, the Granaries originally served as storage for grain in case of sieges. However, the granaries continued to serve their purpose until World War II — during which the 76 granaries were indispensable to feeding the population in these difficult times. 
Now officially named "Pjazza San Publiju", the Floriana Granaries have become associated with large celebrations and events. These include the Isle of MTV summer festival, which has seen some of the world's leading artists perform in front of thousands of people for over 10+ consecutive summers. 
This venue is located just outside of the capital city, Valletta. Its central position means it's well-connected to the rest of the island, especially from its top hotspots like Sliema and St Julians. 
Tips for attending the Robbie Williams concert in Malta 
If you're attending the Robbie Williams concert in Malta, we recommend following these tips to make the most of your experience. 
First of all, wear comfortable and light clothing. August is one of the hottest months in Malta, so dressing appropriately will help you enjoy the experience as much as possible. 
Similarly, don't forget to bring essentials such as sunscreen and water to protect your skin and remain hydrated. More so if you plan on arriving early to avoid the long queues. 
Also, follow the venue's rules and guidelines, such as not bringing in prohibited items. 
Finally, plan your trip to the concert. Even though the venue is easy to reach, it's worth remembering that all concert-goers will be trying to get to The Granaries too. So, avoid any disappointments or delays by finding the most accessible and most convenient route to Floriana. 
Accommodation options 
Choosing suitable accommodation is essential if you want to enjoy your Robbie Williams concert experience. 
Having a convenient place to stay before and after the event will ensure you get to the venue easily and back to your room to rest once the concert ends.
The right accommodation can help you relax, recharge, and get the most out of your time in Malta. 
ST Hotels are located in Sliema. This is one of the best towns to stay in if you want to lodge in a central spot. Plus, it's exceptionally well-connected to the rest of the island, including the event venue. 
In fact, you can reach the Floriana Granaries in less than half an hour by bus. Plus, Sliema is one of the most vibrant towns on the island, with an abundance of restaurants, pubs, and shops. 
Choosing ST Hotels means enjoying the best of both worlds — a bustling location with easy access to the concert. 
Base yourself in comfortable and convenient accommodation for your next adventure in Malta. Book your room now, or reach out to us for more information.
Source of image: https://robbiewilliams.com/