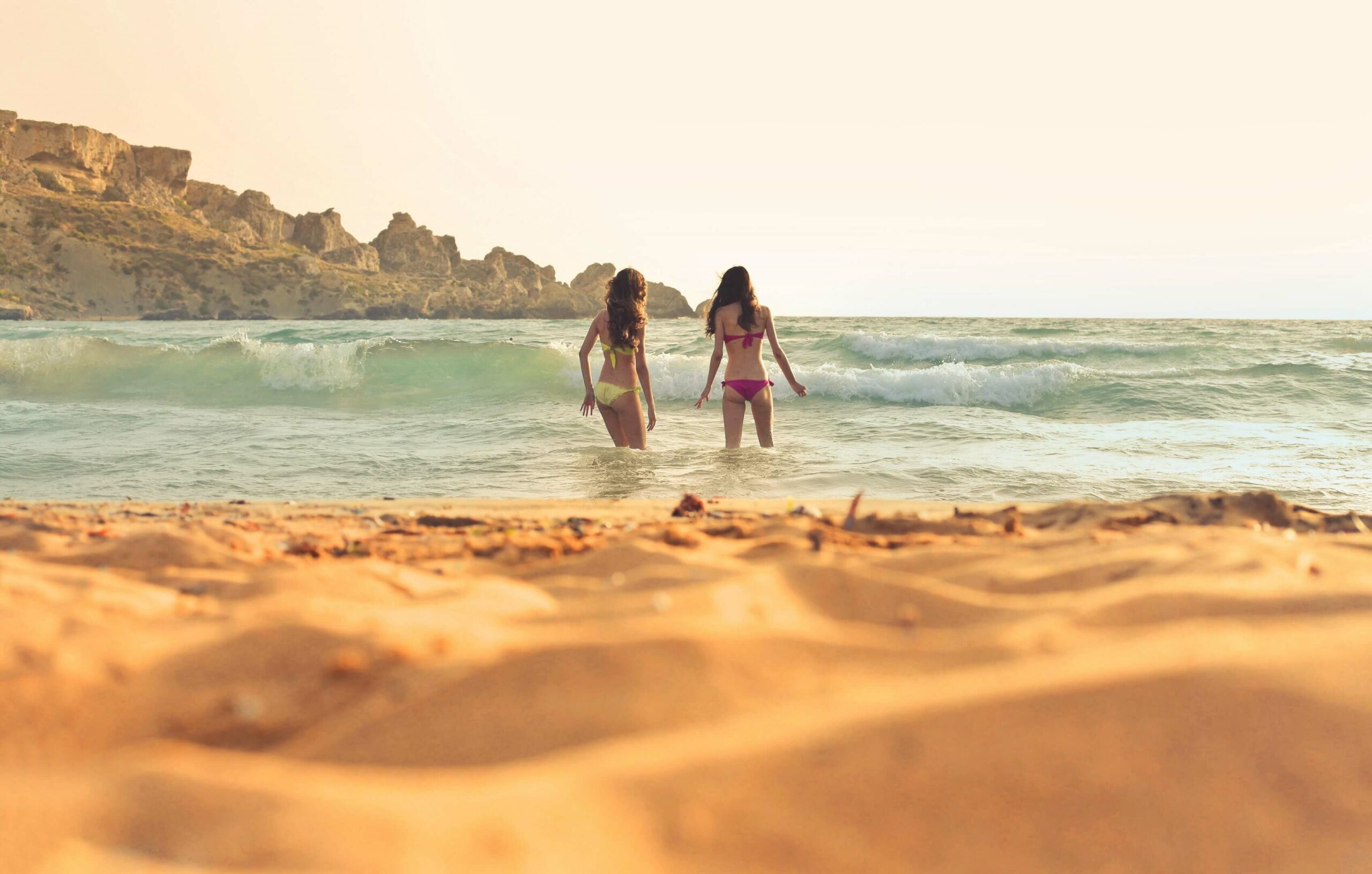 It's summer, and you're in one of the Mediterranean's most-prized gems on holiday.  
Warm weather, sunshine, and mesmerising infinite coasts call for one thing: beach hopping around Malta!
It's hard to resist the draw of the Mediterranean sea. But picking the right beach to unwind and swim can be even tougher.
Especially in Malta, where you're spoiled for choice when it comes to beaches, ranging rocky to sandy, ideal for relaxing and adrenaline-seekers. 
In short, there's something for everyone. So we created this list of beaches in Malta you must visit during your stay. Be sure to add them to your list of must-sees on the island. You won't be disappointed!
1. Golden Bay 
Located in the northern part of the island, Golden Bay is an idyllic escape for both locals and visitors. The bay gets its name from its golden sands, contrasting its crystal-clear turquoise waters, both of which make it a haven for both sunseekers and adventurers alike. 
Once the sun starts setting, the bay's extensive shorelines become a backdrop to a truly wonderful natural scene, as the sun dips below the horizon. Giving a further golden glow to the beach, this time of the day is perfect for a romantic stroll, or an enjoyable evening out with your loved ones. 
2. Mellieha Bay
Mellieha Bay is one of the island's best-known bays, and one of its largest too. Locals and visitors alike love this beach for its gently sloping sands and shallow, crystal-clear waters. 
Simply looking to enjoy the sun and sand? Or are you seeking to add some adventure to your beach holiday? Then Mellieha Bay is the place for you. There's ample space to sunbathe, and to relax. With amenities and services such as deck chair rental services, bars, kiosks, and restaurants lined at its shores you can enjoy various seaside activities. You'll also find operators offering snorkelling, paddleboarding, and jet skiing experiences. There's no better way to explore the bay's beauty from a different angle. 
3. Ghajn Tuffieha Bay
Translating to "Apple's Eye", Ghajn Tuffieha lives up to its name: one of Malta's most-loved locations. 
This secluded and tucked away haven offers a quieter coastal experience — making it the perfect place to enjoy a quiet swim or leisurely walk on the beach.  
To reach this bay, you'll take a picturesque path that unveils stunning views of untouched nature and sparkling waters. The beach's unique reddish sands make it stand out, creating a distinct atmosphere. 
Despite its location, the bay is still easy to reach via public transport, with buses running to and from the bay from various locations including Sliema and St. Julians. 
4. St. Peter's Pool 
We've so far seen beaches in Malta's north — but the southern region has a collection of wonders to explore too. 
One of them is, undeniably, St. Peter's Pool. Boasting a mix of nature and local life St. Peter's Pool, in Marsaxlokk, is a unique rocky swimming spot that showcases Malta's diversity.
This location is the place to visit if you're looking to live the Maltese life, as many locals tend to visit St. Peter's Pool to take a refreshing dip (or dive) in its clear waters or just unwind and simply enjoy the scenery.  
St. Peter's Pool is easily reachable by public and private transport — and is one of the best beaches in Malta to experience the local life. 
5. Blue Lagoon, Comino
One of the most instagrammable places in Malta (and in Europe) needs no introduction. The Blue Lagoon is a must-visit with its crystalline turquoise waters — making it a little piece of heaven on earth. 
Whether you're swimming in its clear sea or lounging on the deck of a boat, you're definitely in for a treat in Comino. You can also opt for snorkelling, through which you can discover a kaleidoscope of marine life. 
Comino is located right in between Malta and Gozo, and is easily reachable via boat from Malta. You can also opt for one of the boat tours available from Sliema for a truly unforgettable experience. 
6. Ramla Bay (Ir-Ramla il-Ħamra)
Gozo showcases a stunning variety of beaches, and Ramla Bay is definitely up on the list of favourites. 
Known for its reddish-golden sand and clear blue waters, it's a great spot for swimming, sunbathing, and water sports.
This bay is nestled in the lush Gozitan countryside and offers stunning views for all to enjoy. 
For history lovers, there's also the Calypso Cave nearby. Legend has it that it's the cave referred to in Homer's "Odyssey."
Enjoy your seaside escape in Malta at ST Hotels
ST Hotels are located in Malta's bustling areas: Sliema and Gzira. By staying with us, you'll be well-connected to all the locations mentioned above, while surrounded by a variety of restaurants, bars, pubs, and shops.

Secure your room today, or reach out to us for further details.